Post by Deleted on Jun 2, 2018 17:22:06 GMT -5
Character App
""I...will become a hand of JUSTICE, and a hero to those in need!"

"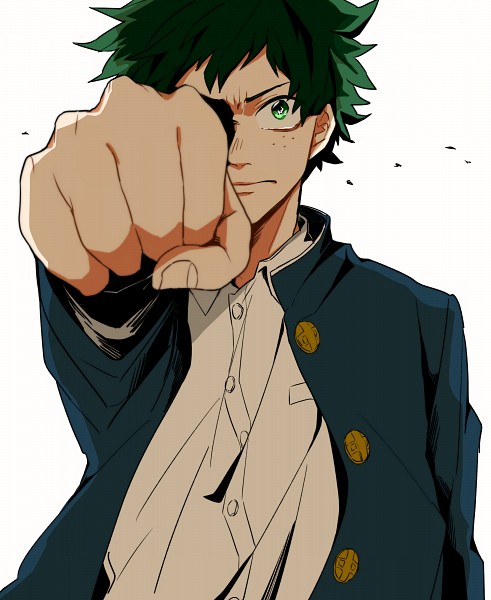 Full Name: Dubois, Erik Jr.

Alias/Nickname: N/A

Race: Human

Gender: Male

Age: 18

Faction: Marine


---
Appearance: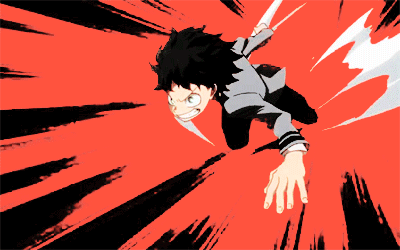 Standing at 5'5" and weighing 127lb, Erik Dubois Jr typically sports an alert, and slightly relaxed posture whenever standing unless something occurs that would cause him to shift his stance. His face lacks any blemishes or scars except for the freckles on his cheeks. Erik's eyes are dark green in color, and usually seen a bit widened. Due to the structure of his face, Erik looks a bit young, but not by that much. Maybe about two years which isn't something he's all too proud of.

Erik has dark green messy hair that, matching his eyes. Erik was never the type to comb his hair, and would just let it run wild with the only sort of care he gives to it being of course washing it.

As for Erik's usual attire when not wearing the Marine uniform consists of a white long sleeved shirt with buttons running down the middle. Over the shirt is a long sleeved blue coat with yellow buttons that he normally keeps open. On the lower half, Erik wears black jeans with brown timberland like boots. Of course these aren't his only choice of attire as he could be seen wearing a wide variety of clothing.



Hair Color: Dark Green

Eye Color: Dark Green

Height: 5'5"

Weight: 127lb


---


Personality:
Calm, Quiet, Awkward, Determined, Loyal, Justice Driven, and Polite are
some of the things that can best sum up this young Marine. A teen who is soft spoken at times, but isn't afraid to get the job done.

When it comes to large groups, Erik still has a hard time fitting in, and would rather keep to himself due to not really being good at certain social things, and would be either deep in thought, training, or observing the group, leading him to being quiet most of the time. Just because he cannot really fit in doesn't mean he does not like this sort of stuff as he wishes to be around people who treats each other as friends, perhaps family.

Erik is known for being amazingly patient with most, as well as polite believing that keeping a calm mind will help in the most heated of situations as well as to make sure his allies, and crew can keep a calm head. Even against his enemies, Erik is know to still show a form of respect depending on where they stand, but he wouldn't hesitate to take them down if need be. Majority of that respect however goes to the Marines, and those he considers close friends, and family as he is willing to die for them so long as it isn't something truly ridiculous.

Speaking of, not many things really get to Erik save for things like people mistaking him for being younger than he is, or calling him cute. It's annoying, but it isn't really something he would get enraged about. Other things that really set him off like those betraying their comrades, heartless criminals, those without a sense of justice, and slavery are a different story...

During his off times, Erik can either be found strolling about, training his body, his head in some books that could be just about anything since he isn't picky when it comes to subject. Drawing might be his most favorite out of all of them however as he keeps a pencil, and notebook with him at all times for drawing whatever comes to mind, or if he finds something, or someone he would like to draw. Over the years as his skills improved, so did his drawing, being able to draw things to near perfection at a much faster rate than before, but not inhumanly fast of course. Drawing is a passion of his that he picked up when he was younger.

When it comes to pirates, and other crooks, Erik does not tolerate them as he believes they are the people who are leading the world into chaos, and destruction. Part of the reason Erik became a Marine is to help keep the peace for all the people out there. Revolutionaries are a bit of an odd case for him in the sense that he sort of understands why they are antagonizing the World Government, seeing that they want to make a better world as well, but he believes they are going about it all wrong. In the end, Erik has some respect for them as well as pirates, and criminals who aren't truly heartless, but in the end it is still his job to take them in.

 Erik is strongly loyal to the Marines, World Government, and all those he claims as his allies, or friends, even family. Ever since he was young, Erik looked up to the Marines as heroes, encouraging him to walk down the same path. Despite what a lot of people say, Erik does not believe that the World Government is corrupt, and even if there was some corruption, he believes that it could be snuffed out by the overwhelming good within. Even if he has to do it himself.

As for the battlefield, Erik's most preferable weapon is his body. Despite his petite body, Erik is pretty strong. One might argue he is on the supernatural side when it comes to strength. He has been training himself for a long time now to make sure he is someone useful for the Marines, and not just some dead weight.

He strongly wishes to become an Admiral one day, someone the world can look to when they are in need.


Likes:
-Marines: Ever since he was little, Erik admired the Marines, seeing them as heroes who fight the bad guys.
-Books: Erik loves a good read when he isn't training. He enjoys most books, but mainly Science Fiction types.
-Training: Just as much as a nerd, Erik is also a fighter, meaning he needs to keep his body fit so he can be ready whenever needed.
-Drawing:Erik has been a fan of drawing since he was little. It helps him to focus, and relax.

Dislikes:
-Awkward: Erik dislikes making things awkward since being in such situations makes him feel weird, and a little nervous at times.
-Criminals: Erik is not a fan of pirates, and other crooks. Especially those without a sense of moral since they cause nothing, but trouble.
-Quitting: Giving up on something/someone isn't something Erik is fond of doing. Being a Marine, Erik wants people to see him as someone with no weaknesses despite it being impossible.
-Disloyalty: No matter the faction, Erik absolutely despises those who turn on their own especially for petty, and completely stupid reasons.

Moral Alignment: Lawful Good


---


History: Erik was born, and raised in Outset Island. He lived a pretty average life with his father, Erik Dubois Sr. who was a Marine Ensign, and his Mother, Elizabeth Dubois who was not born in the Blues. Ever since he was a little kid, Erik looked up to the Marines, especially his dad who to him was like some sort of super hero. Erik would always make little doodles of his dad saving the day with the other Marines which soon led the boy into picking up drawing as a hobby. Every time his dad came home, Erik would greet him with drawing after drawing which he loved every single one of them. Erik wished to be just like his father when he grows up, a Marine who stood for truth, and justice as well, beating up those pesky pirates. Erik's dad believed in his son, not only thinking that he could become a Marine, but a better one than him which only fueled his child's determination more.

Then tragedy would strike...

Around the time Erik Jr. reached the age of ten, his father was called in to be a part of a group to handle a situation off of the island. In the beginning, Erik's father would call in on his family to see how they were doing, and let them know that he is alright. Of course he couldn't go into detail about his assignment, but would always assure the two that he will be alright. For a few days, Erik's dad checked in, but soon the calls stopped coming. Erik's mom quickly grew worried, but her son would always try to cheer her up, believing that his dad was doing alright. Unfortunately that wasn't the case.

After a few weeks have passed, a knock on the door came. Erik believing it was his dad quickly rushed over to open the door. It was a Marine, but not his father. It appeared to be someone of higher rank who wore a frown on his face. As soon as the mother came to the door, the Marine would drop the bad news. Erik's father was killed while in the line of duty along with some others who were with him. This devastated the mother, and Erik, but hit harder for the poor boy. Ever since then, Erik became less cheerful, and even throwing away his dream of becoming a Marine. He grew so depressed that he couldn't even bare to attend his father's funeral which is something he grows to regret even to this day.

About three years has passed since, and the now thirteen year old Erik was still a mess, becoming less, and less social as time went on. This is also about the time a certain someone returned to the island.

Erik's grandfather on his father's side had finally arrived once news of his son's death reached him. He was an ex Marine Captain by the name of, Richard Dubois and the reason why Erik's father wished to join the Marines in the first place. The grandfather came to pay his respects to his late son, but also found out about his grandson's drop into depression. It came as a shock to the old man since the last time he saw Erik Jr, he was as cheerful as ever. However, what shocked Richard the most was the news of his grandson giving up on his dream of becoming a Marine. This enraged Richard since he wasn't known to be the softy type. He made sure Erik got back on the path of being a Marine, whether he wanted to or not!

At first, Erik was very reluctant about being forced back into this, and back into training. He was even rusty due to his lack of training for so long. But slowly, Erik's drive was rekindled, especially with hearing stories about how hard both his father, and grandfather worked to become Marines from his grandfather. This fueled Erik with both energy, and more sadness for ever thinking about giving up. He needed to keep on pushing himself for his father.

No, not just his father, but for his family, for the rest of world who looks upon the Marines for help!

So Erik continued to train, even overdoing it at times. Along the way, his grandfather passed of old age, but he wasn't going to repeat the same mistake. Once he reached the age of eighteen, he enlisted himself into the Marines, vowing that he will not only be as good, but better than both his father, and grandfather.

It's what they would have wanted....




Face Claim: (Boku no Hero Academia/Midoriya)

RP Sample: N/A


Talents
TALENT
Name: Power (+1)
Description: The user's power is increased by one rank (Rookie to Junior)
TALENT
Name: Speed (+1)
Description: The user's speed is increased by one rank (Rookie to Junior)
TALENT
Name: Health (+1)
Description: The user's Health is increased by one rank (Rookie to Junior)
TALENT
Name: Navigator
Description: For a word count of 250, a Navigator can lead a ship toward any island. However, to navigate to places in the Paradise portion of the Grand Line, a Navigator must own a Log Pose.
TALENT
Name: Stamina Booossttt
Description: +100 added to the user's Stamina
TALENT
Name: Strong Boi
Description:Due to many years of training, the user is capable of naturally carrying things x2 their body weight starting at Rookie Rank as opposed to Junior, going up by x1 per rank up.

TALENT
Name: N/A
Description:
Styles
Iron Will
Category: Blunt
Theme: Rokushiki
Element: Wind
Bonus: +Defense for Moves
DESCRIPTION
Rokushiki, or Six Powers as some call it, is a superhuman Martial Arts style that utilizes six different techniques. However, this particular style focuses only on three of them being, Geppo, the ability to jump off the air itself, Soru, an ability that allows the user to move at extremely high speeds to avoid, or get in closer as if they "teleported" and Then there is the final technique mainly used for defense, and even offensive purposes, Tekkai, giving the user the ability to harden their muscles to the level of iron.
Rookie Style: At this level, this styles true abilities are not in affect, and instead focuses on basic forms of attack/defense that has a little more strength to them than normal.
Junior Style: At this level, the user's punches, and kicks are a bit more powerful than before. Additionally, the user also now has access to three of the rokushiki techniques which are Geppo, Soru, and Tekkai in their simplest forms, being able to combine them as well, with Geppo aiding in kicking up gust of wind for various purposes.
Journeyman Style: At this level, the user's Tekkai becomes a little more durable, and is now able to coat parts of their body in it instead of their whole body along with Geppo being improved as well as Soru. The user is also able to move their tekkai enhanced limbs for powerful (melee/ranged with the assistance of Geppo to form compressed air) attacks, but will strain the body in return.
Expert Style: Now getting a better hang of their technique, the user is able to travel farther with Geppo, use Soru in rapid succession as well as their Tekkai being more durable then previously, the coated offensive attacks no longer straining the body. Along with that, compressed air attacks formed by its combination with Geppo become even stronger, causing powerful blunt, or even piercing winds from the Tekkai coated attacks along with also having access to an emotional state, requiring an emotional trigger (Super Talent/Move)
Master Style: Now at the tip of the iceberg, the user's Tekkai has made it to its final stage, combining it's nearly impenetrable defense with its devastating offense, the user is capable of doing tremendous damage with little to no backlash as they are now capable of moving while fully coated. The strength of Geppo, and Soru has raised as well, being able to combine the three to form devastating wind combos.
Moves
Moves for Iron Will

Justice Block
Rank: Rookie
Type: Defense
Range: Self
Requirements and Drawbacks: Requires both of the user's arms. User cannot move from spot, or perform any other action during the duration of this move, or they will lose their focus, and move will be ineffective.
Cooldown: 1 post
Stamina Cost: 10
Description: Standing their ground with legs spread, and focusing, the user crosses their arms together in an X like formation, taking a defensive stance to protect themselves from blunt attacks.
Hero's Punch
Rank: Rookie
Type: Attack
Range: Contact
Requirements and Drawbacks: Requires both of the user's arms. User cannot move from spot, or perform any other action during the duration of this move, or they will lose their focus, and move will be ineffective.
Cooldown: 1 post
Stamina Cost: 10
Description: Once again taking a stance with their legs spread apart, the user pulls back one of their arms, balling their hand into a fist. Next the user launches said fist forward, usually aimed at the target's head, or upper body, unleashing a strong punch that inflicts Rookie ranked damage. If contact is successful, the user will also bend their arm a bit in an attempt to knock the target down onto their back, or stomach, depending on where they were punched.
Tasks and Adventures Completed
1 Task