Post by Anton D. Lacroix on Jun 5, 2018 6:09:09 GMT -5
"Why am I here?"
Full Name:
Lacroix D. Anton
Alias/Nickname:
Screaming Hopper
Race:
Human
Gender:
Male
Age:
23
Faction:
Marines
---
Appearance: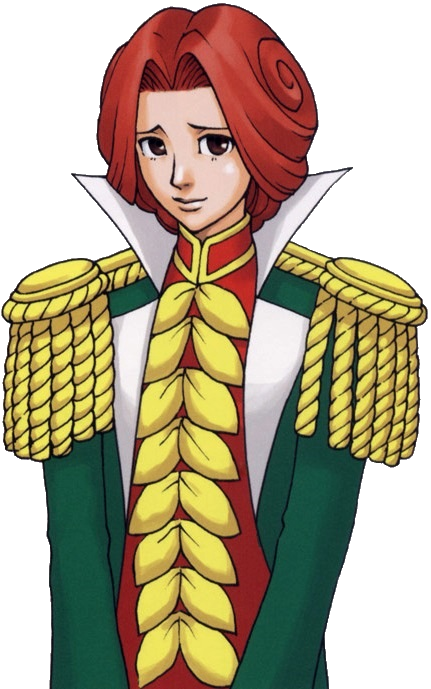 Anton Lacroix is a somewhat attractive, if bot a bit of an effeminate looking young man. Standing just shy of 6 foot with a lean, yet muscled build (the result of the rather brutal marine training he was forced to go through), he has a healthy complexion, and numerous scars along his body, thankfully hidden by his clothing (again, the result of the training he has gone through. Thankfully, his face remained untouched. His red hair is in a rather peculiar style, styled into a pair of 'buns' on either side of his head. He has soft, almost feminine facial features, and expressive brown eyes. ultimately, he looks like someone you wouldn't expect to be a marine, and more like someone you would expect to find in a noble's court.
And Anton's clothing also gives this impression. Again, not that of a typical marine, but more of a noble. He wears a red undershirt with golden trim and golden decorations down the front, over which he wears a green overcoat with golden cuffs, epaulets, a white collar and is wine red on the inside. He wears a pair of rather form fitting white pants, a pair of knee high brown leather boots, and a pair of white cotton gloves. On occasions he is also seen wearing a green, wide brimmed hat with a pair of white feathers tucked into the band.
Hair Color:
Red
Eye Color:
Brown
Height:
5'11''
Weight:
186 lbs
---
Personality:
Anton Lacroix is, quite literally, the LAST person you would ever expect to be a marine. The last person you would think would willingly take up a sword and fight for justice and defending the innocent. And to be honest...they would be absolutely right! Anton Lacroix is a man who is in way over his head, and he does not like any of it. Under normal circumstances, Anton is the kind of guy you'd see sitting by himself, living a nice, quiet, peaceful life. Instead, he's been effectively gangpressed into being a marine and he hates every minute of it. He does not consider himself a fighter at all, and is deathly afraid of combat. However, due to the grueling training Anton has been forced into, the poor man will basically throw himself into a fight, if only because he's more afraid of what will happen if he fails to do his duty. In other words, Anton's heroics are fuelled purely by fear! Needless to say, due to the stressful lifestyle of a marine, Anton is a borderline nervous wreck.
However, underneath all the neurosis a genuinely kind hearted, and intelligent young man. His training in the marines have given him an almost encyclopedic knowledge of the law, and thus all the loopholes he could use to avoid unnecessary conflict. Outside of duty, when he has time to relax, he's a rather pleasant young man, often friendly and willing to see the best in most people, until they prove him horribly wrong of course. He has a soft spot for children, and tends to get shy around women. He has a keen eye for business, due to being raised to be an innkeeper before his recruitment, and can point out when somebody's trying to scam someone, showing a surprising amount of clarity when it comes to working out people's motives.

Overall, Anton is the most unlikely marine one would ever meet. He's whiny, cowardly, and will o everything he can to legally dodge responsibility. But when the chips are down, and when people are in true danger, he will be one of the first people to run in and help. He does have the heart of a real hero. He just needs to get over his crippling fear before it can come out.
Likes:

Tea: Any sort of tea would do, preferably with milk and sugar. It's very soothing and helps calm his nerves.
Classical Music: Anton is always a fan of classical music, particularly the quiet, peaceful sort. It helps calm his nerves, letting him relax.
Peace: Peace and quiet. What's not to like? If Anton could live a peaceful life, he certainly would be happy.
Festivals: They remind him of home. A time when one can let your hair down and have fun. He'll be more than happy to partake in one.
Dislikes:

Pirates:Dirty criminals who spread chaos around the world. If he could go throughout his life without seeing another pirate, he would be more than happy.
Revolutionaries: Those seeking to shake up the statues quo. Can't they see things aren't as bad as they seem? There are other ways to fix the world than by going to war with the government!
Conflict: Anton is not a fighter. Will never be a fighter in his mind, and only goes into a fight because he's afraid of what would happen if he refused or failed.
Moral Alignment:
Neutral Good
---
History:
Anton's life started out pretty peaceful. Born on Dressrosa, his family were the owners of a rather popular inn on the island, and although Anton was a rather shy boy growing up, he was happy with the peaceful life he had. With his elder brother, Basil, set to take over the inn for his parents, Anton was free to pursue his own interests, such as the violin. However, at the age of twelve, his elder brother pulled a surprise move and went off to join the marines. His parents supported him in his decision, and so future control of the inn would fall onto Anton. The young man didn't mind, as his parents were rather good teachers when it came to the ins and outs of business.

But his brother's career in the marines had another effect. Basil quickly rose up in the ranks, becoming a marine of high reputation. Anton would constantly hear the stories of heroics of his elder brother, and his parents would enjoy a small degree of fame that came with being related to a famous marine. It seemed like things were going pretty well for the Lacroix family.

But then, everything crashed down when Anton turned seventeen. Basil was killed during a battle with the revolutionary army. Hearing the news was like a knife to Anton's heart. He had dearly loved his brother, and now he was gone forever. But that would only be the start of Anton's spiral downward. His parents had gotten used to the prestige that Basil had given them, and so came up with the idea of Anton following in his brother's footsteps, and joining the marines. A marine was the last thing Anton wanted to be, but due to his meek disposition, he unfortunately couldn't say no to them.

And thus began four grueling years of hell. Sent off to training, Anton indeed struggled, showing he wasn't as inclined to this sort of thing than others. Under normal circumstances, a man such as Anton would have been discharged. But, much to his misfortune, his instructor had made a personal vow to not let any cadet fail under his watch. This resulted in Anton being pushed even harder, much to his dismay.

Things got even worse during his second year. Some of his fellow cadets, as a prank, had slipped what they thought had been some bad fruit into Anton's breakfast. The fruit in question turned out to be a Devil Fruit, the Mushi Mushi no Mi: model Grasshopper. this would be discovered later when Anton almost drowned during a training exercise. Though Anton was saved, this development effectively gave Anton a 'leg up' over other cadets. His instructor, as a result, took Anton aside for some specialized training. This training was even more brutal than what he had been through before. Despite wanting to simply fail and go home, Anton had been imbued with a fear of what would happen should he fail, being forced to rely on that to get him through. By the time Anton's training was over, the poor guy was a borderline nervous wreck. But at least he could do his job. That satisfied his instructor.

And so, now out of training and granted a rank, Anton's career as a marine was about to begin...whether he wanted to or not.
Face Claim:
Phoenix Wright - Anton Lacroix
RP Sample:
"Alright you maggots, listen up!" Cap[tain Machez, a large, bald marine captain yelled out, walking down along the line of marine cadets in front of him, "Today's the big day! Just one more test and you guys will officially be in the marines! And I have just the test for you all!"

He took a step to the side, revealing not that far behind him, a rather feminine and nervous looking young man holding a broad sword. "Your task is to beat and apprehend this man!"

The marines blinked, looking at their nervous target as Anton Lacroix, in turn, gulped as he looked at the many men in front of him. Machez turned to Anton. "Lacroix! Your task here is to fight and beat these marines. All at once." anton gulped once again. "A-Are you sure this is legal?" he asked. He was pretty sure that forcing cadets to fight eachother like this was against protocol. Machez smirked and pulled out a note from his pocket. "I got permission from the rear admiral to conduct this exercise. Had to do a couple of favours, but it's worth it." Anton's jaw dropped. "Y-You went that far!?" Machez crossed his arms, tucking the note back into his pocket. "alright, enough talk. Men! Get to fighting!"

The marine cadets, sensing an easy victory, grinned and suddenly charged, their swords raised. This would be an easy fight. I mean, their opponent was grossly outnumbered, and he was clearly scared of them. Indeed, Anton barely had any time to bring up his blade to avoid the first strike, before the remaining marines swarmed him. Anton was doing everything he could to block the incoming attacks. Thankfully their large numbers meant they were limited in space to attack him, but Anton was still having a hard time fighting them off. A couple of blows slipped through, managing to graze him, each hit causing the poor man pain. He had little room to fight back.

Meanwhile, Machez was watching, and growing annoyed. "Come on Lacroix! Fight back already! I trained you better than this!" "I-I'm trying!" Anton spluttered as he managed to block another sword strike, "Th-There's too many of them!" Machez scowled. "You botch this Anton and I'm holding you back for more training, understand?"

Anton froze. More training. The same hellish training that he had been put through for the last four years. More of the nightmare the large captain had been putting him through.

And then, Anton began to change. The other marines paused in surprise as they watched the scrawny man changing, growing bigger. His legs grew out and bent backwards, his skin being replaced by a green exoskeleton. A second set of arms grew out of his sides as a pair of antennae form poked out of his hair. They couldn't believe what they were seeing. Was he some sort of monster.

Anton, now in his hybrid form, turned and looked at the marines around him...and then promptly screamed. Before the marines could react, Anton was swinging his sword around madly, throwing himself at them. All concerns about his safety were practically gone. Because right now, fighting these guys, as outnumbered as he was, was MUCH better than possibly going back to training. Anything but that!

The next minute or so was a complete blur. Fear had a rather interesting effect on one's memory. By the time Anton stopped, he looked around, noticing that the other marines were on the ground, many of them wounded and groaning in pain. What had just happened? Captain Machez laughed as he walked up to the grasshopper hybrid, patting him on the back. "Now THAT'S more like it. I knew you had it in ya kid. Consider your training over! You're now an official marine!" He turned his attention back to the fallen marines. "As for the rest of you, get your asses up and back to the training field. You've got a lot of work to do!"

Groaning in pain, the marines slowly forced themselves to their feet and began to clear out of the yard. Machez gave his former student one last look before following them out, leaving a very confused Anton standing in the middle of the yard.

His training was over. That was a massive relief. But was the life of a marine any better? Something told him things were going to get a lot worse. Standing alone in the courtyard, Anton Lacroix groaned pitifully.