Post by jaro on Jun 6, 2018 3:08:01 GMT -5
"Life is 10% what happens to you and 90% how you react to it...How will you react?"
Full Name: Clover Ja'Ro

Alias/Nickname: Odin

Race: Human

Gender: Male

Age: 23

Faction: Marines


---


Appearance: Starting with his demeanor; Ja'Ro usually has a sort of smirk or mischievous smile. Not to say that constantly planning something. It's more of he is happy to be a live, to see the sun among other things. He is just a generally cheerful person. From toe to head; Ja'Ro sports a plain yet comfortable outfit. His shoes black yet perfect for fighting or for going on a daytime stroll. Whatever the need they are his go to pair. He wears a simple pair of black pants similar to hi shoes in versatility. He rotates shirts however. He either opts to wear a black long sleeve that covers his neck or a simple short sleeve white tee. Although he dresses rather 'plain' Ja'Ro wears a Golden Cross Pendant he received from the princess of the Lvneel kingdom. He also wears a pair sterling silver earrings.

Hair Color: Silver

Eye Color: Gold

Height: 6'5"

Weight: 189 lbs


---


Personality:
Kind | Ja'Ro is one of the kindest gentlemen that one could ever meet. That being said he is no push over nor is he gullible. He often has a slight smile on his face; when he does smile it is always a warm one. He treats most people as if the were his children, often giving each one they're own nickname. He prefers staying out of the way, but when needed he is a excellent negotiator; calming down most heated situations.

Fierce | Whether it be from is presence or the indomitable will; ferocious gaze, or how he can change the tone of his voice to fit the situation. Ja'Ro, if he wanted, could easily stand on his own against a platoon of soldiers and defeat them with ease. When he enters a room he can be felt before he is seen. Its sort of a regal aura he emits; that pairs well with he unique Golden eyes and dark sun tanned skin.

Jokster | How has he remained so young looking? Well one part is his generous sense of humor. Due to his sense of humor he understands most jokes finding the more ridiculous the joke, the funnier it is. He will also tease his opponents in the middle of the fight. If he notices something that amuses him Ja'Ro will point it out. He is also known for playing jokes on random people. Its never really anything that'll harm someone.

Suave | If there's one thing that keeps Ja'Ro going is women. He is definitely a womanizer in the sense that he loves to flirt with them. That being mentioned Ja'Ro is a True gentleman; often saying "Chivalry is not dead." He is a smooth talker to say the least. He's coined the phrase "My spoon isn't silver. It is golden, because I've earned it."

Seasoned | Whether it be in combat, politics, or even courting a woman Ja'Ro is a little more experienced then the average person. There's a strong possibility that it's due to upbringing. Having actually lived with royalty he's picked up a few things. Him being outwitted only happens if he allows himself to be. He is a man who can teach all with a simple phrase "No one is neither to old or young to learn from someone." That's why he continues to learn.

Likes: Rice; It doesn't matter the type of Rice. White Rice, Brown rice, Long Grain Rice, Clean Rice, Dirty Rice, Stemmed Rice, Fried Rice. Ja'Ro loves it all.
Writing Haiku's; For some reason he is horrible at writing Haiku's but loves scribbling them down any times he gets a chance.
Flirting with Women; As long as they're of age, Ja'Ro indulges himself in making women smile and fawn over him.
Endangered Species; Any sort of endangered animal Ja'Ro takes extra steps in preserving the species.
Medicine; Without Modern Medicine who knows where we'd be. That being said Medicine is exactly what drives Ja'Ro. At one point it was more for his family, but now he practices it to help anyone who needs it.

Dislikes: Over Salted Foods; Some people know the correct seasoning ratio and some don't. Ja'Ro cannot stand the latter.
Cock Blockers; "All these woman and you want to muscle in on mine."
Villians; Who likes Bad people except other bad people? Exactly.
Slavery of All; Especially of those who can't fend for themselves. Slavery in general is a and always has been a outdated concept; its bothered Ja'Ro for centuries...
World Government; As you will come to find Ja'Ro despises the World Government and the people who sit a top their false thrones in the Holy land. The chip he has on his shoulder is deep seeded and may only bloom after a complete reform of the government.


Moral Alignment: Chaotic Good


---


History:Ja'Ro was born into this world as a noble. He is officially from the holy land, but has no memories of his time there. Why? Because he only spent 3 years there before leaving. Even though he was only 3, Ja'Ro showed he had a high intelligence. He had been able to walk and talk extremely well for someone his age. One day, He and his parents went to the Lveel Kingdom. Those from the holy land often did things like this, take a vacation of sorts to a kingdom in the blues.
Ja'Ro's parents had made many stops along the way, causing the trip to take over two years. When they had finally reached Lvneel Ja'Ro was 5. While traveling to the different islands the adolescent noble had found an interest in medicine. The entirety of time before they arrived to Lvneel, Ja'Ro had many many tutors, which he seemed to advance beyond each and everything that each could teach him. He was learning material for children double his age easily.

While stopped at a Island, one of his parents had become ill. Causing them to need a doctor, which they didn't have aboard their massive ship. While his parents where being treated Ja'Ro snuck a book from the mans things and began reading it. It was s basic medical book, but Ja'Ro had become completely infatuated with it. Thinking it would be useful for their child to be a doctor. They indulged in his fascination by bringing hundreds of books related to medical practices, the human body, pressure points, even some about animals. The list went on.

2 weeks into staying at Lvneel Ja'Ro's parents became bored of the humble lifestyle of the kingdom and its royalty. Ja'Ro himself had made many friends within the two weeks. He had gotten especially close to two children around his age. The first was a girl by the name of Genève Artois, while the other was the princess of the Kingdom. Her name was Oka Takanashi. The trio had become inseparable in only two weeks. Ja'Ro's parents were disgusted in their child's relationship with the people who were commoners to them.

They ultimately left the boy in the Lveel kingdom. Leaving him to his own devices. Not knowing what to do after being left Oka's father, The King, took in Ja'Ro and sent him to learn the ways of the sword and be raised by the head of the royal guard. The man was strict and had a strong sense of justice and loyalty. Traits that over time Ja'Ro adapted. The boy learned how to wield a blade and over the years became the best swordsman in Lvneel. On his eighteenth birthday he was assigned to be Oka's personal guard. A year passed and he turned 19.

Soon after turning 19 Ja'Ro joined the marines. People he had come to admire greatly; his parents had left a scar and a foul taste in his mouth that only worsened over the years. This caused him to despise nobles and the holy land and the World Government who endorsed them. His feelings towards the holy land however are kept in the recesses of his mind. How would it sound for a Marine to hate the very people they swore to protect. Over the next four years Ja'Ros name spread through the marines like a wildfire. Even being approached by Ciphor Pol; ultimately turning them down. He was given the code name ODIN by them out of respect for how he had carried out his missions. In those years Ja'Ro continued learning all he could about medicine, using his position to gain access to vast amounts of information on modern medicine. He would go back to Lvneel whenever he could to share is knowledge and catch up with his Family.

Face Claim: Kotomine Shirou | Fate Series

RP Sample: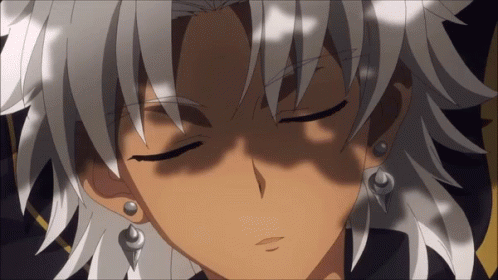 "WAKE UP SLEEPY HEAD!" Oka yelled as Ja'Ro laid under a tree's shade. He slowly opened his eyes to see the 4'11 green haired woman. "Why're you being so loud." Ja'Ro groaned out. "Because we've been trying to wake you for the past 10 minutes." Genève spoke quickly before Oka had gotten the chance. The golden haired ebony woman's voice was far more stern and demanding than Oka's was. Ja'Ro sat up yawning loudly. He scratched the back of his head before stretching. Both women looked upon hir childhood friend with a smile. "Today's the day huh?" Ja'Ro asked jokingly with a smile Both nodded. Ja'Ro stood up and looked at the kingdom from a top the hill that the massive tree sat on.

"I'm going to miss this place." he said right before Genève slapped the back of his head. "You act like you aren't ever going to come back." she snapped at him. Ja'Ro stumbled forward. "Ow!" said yelped while rubbing the back of his head. "You should've hit him harder." Oka said smiling. "Besides PaPa would probably send a task force just to make him come home to eat dinner." The trio started laughing. "Yeah, if I was gone for to long without a single word. Then yeah." Ja'ro spoke sarcastically. Oka folded her arms while Genève roled her eyes. "Don't act all brand new. you know you'll miss Lvneel." Genève said. "Ja'Ro looked at the two of them and smiled warmly. "Well, I know two things I will miss the most. The two women blushed and smiled.

"I should go speak with the King before I leave." Ja'ro said while pulling a pocket watch out of his left pocket. "I will be needing to leave soon." The trio headed down the hill back towards the town below. Lvneel never had much crime; it was a peaceful kingdom and had been so for many years. However, you did have the occasional miscreant who caused trouble. While walking through the town back towards the castle the three began to hear a commotion. The closer they got to the ruckus the bigger and bigger the crowds of people where becoming. "Perfect Timing. I was feeling a little stiff." Ja'Ro took the sleeve off of his scabbard. "Really?" Genève asked as the sleeve fell to the ground. "I won't even remove Akua." he said referring to his katana. "At least try not to hurt them to bad. You are only supposed to fight when Oka's in trouble." Genève yelled as Ja'Ro walked into the fray. "Well they're causing trouble for her..." He spoke just loud enough for the two women to hear.

As he worked his way through the crowd he saw two men arguing. One was a local shop owner while the other seemed to be a tourist. Before Ja'Ro could even speak a few more men stepped from the crowd and began to back the new comer. "That's better." Ja'Ro approached them as a whispered hush fell over the crowd. "Hey ladies. Mind if I have this dance." The group of 6 men turned to see Ja'Ro. "Who's this piny kid." one blurted out. "Kid? Oh you're first." the men all laughed, but before any of them could get a word out the man went skidding across the ground, before hitting a wall. "Now where were we?" A shocked looked befell two of the men as the other three all rushed Ja'ro. "All three of you are wide the fuck open." Ja'ro said as he gracefully dodged the attacks. "Lets give em a show boys!" He said excitedly while flipping over one who tried to grapple him. "Rule 1, never bring incompetence to a sword fight." He said jokingly to get a rise out of the men.

People in the crowd began cheering for their Champion. Ja'Ro side stepped one of the men; tripping the trouble makers. The final man started rushing Ja'Ro. Ja'Ro laughed and before the man could do anything, all he could see was red. Ja'ro has hit the man with the scabbard causing him to bleed. J'Ro looked at the other two men who didn't jump in. ""Life is 10% what happens to you and 90% how you react to it...How will you react?" The two men looked at each other then back to Ja'Ro. "You took to long to answer." With that Ja"ro rushed the men and with solid strikes knocked them both unconscious. The crowd cheered briefly before dispersing and continuing with their daily routine. Oka and Genève walked up to Ja'Ro just as knights had arrived to the scene. "You all are late, with your patrols today." He said grabbing his katana sleeve from Oka. "Our apologies. It's been a busy day sir." Oka spoke up quickly. "Don't mind him. Good job you all." Suddenly each solder got a smile their faces. A horn could be heard off in the distance. It was the signal from the ship; that it was about to leave soon. "Crap I haven't gotten a chance to peak with the king. "It's alright. I'm pretty sure he won't mind. I'l let him know about what happened today." Oka said smiling. Ja'Ro gave them both hugs before darting off towards the port. Ja'Ro heard the horn from the ship a single time before reaching the port. Luckily for him he had 5 minutes to spare.

"Good luck Ja'Ro. We all have high hopes for you regardless of what happens when you leave Lvneel." to the said was a man who obviously was trying to blend in, but was doing a horrible job at it. "Un-stealthy as always King Hisoka." Ja'Ro said in regards to the various bodyguards Hisoka had around him. The king laughed. "I have no idea what you could be talking about." Ja'Ro waved him off. "Before you go take this. It was something special from my father and I'm giving it to you." King Hisoka hand Ja'Ro another Katana, but there was something different about this one. Ja'ro wasn't sure what however. "Thank you!" He said with pride. "It's known as Akua, as well." Ja'Ro raised a eyebrow. King Hisoka smirked, bu before Ja'Ro could inquire about it more the ships horn blew it final whistle. Ja'Ro turned quickly and boarded the ship. He waved back to a massive group of people who had come to the dock to see him off. It was everyone from children to army generals. "I will come back when I stories to tell. In the mean time don't touch Oka or Genève." The two women blushed and smiled; the crowd began laughing. "That's just like him to leave on a note like that."