Post by Atlas D. Shen on Jun 17, 2018 15:38:15 GMT -5
"Free your mind and everything'll follow."
Full Name:
Atlas D. Shen
Alias/Nickname:
N/A
Race:
Human
Gender:
Male
Age:
20
Faction:
Pirate
---
Appearance:
Taking it from the top. Literally. Beginning with Atlas' hair it may just be the most noticeable feature or part of his body. Atlas' hair is pure white. Some may differ in opinion and proceed to call it either silver or grey, which of course does not bother Atlas in any way. Atlas was never quite sure why he with his white, silver, or grey whichever you prefer, hair had strayed from the standard colorways including, blonde, brown, and black. Putting that to the side though, he is quite happy with his hair. A single white spike falls from the top of Atlas' head down to his eye, at the least, due to a combination of length and gravity.

The rest of the bright white strands/spikes are seen standing atop his head, protruding outwards in different directions. Similar to a porcupine. Naturally these strands of hair are able to do the same as the single dangling strand, they are simply locked into place by gel. In terms of fighting, Atlas tends to restrict his hair by feeding it through a rubber band or hair tie, twisting it twice whether it be the former or the latter. Reason being, with forceful enough movements, those strands of hair pinned above will free themselves and fall into his face.


Transitioning to the face of this pirate. Atlas' face can and has taken on many shapes and forms. Like the hair that rest upon and falls from the top of Atlas' head, his eyebrows are also white. From the center of his forehead they start, average size at first, as the extend close to the edges of his forehead, they grow increasingly thin. He has often been mistaken for having no eyebrows because of how light they are as well as his skin color also being light.

Atlas can often be seen with his white eyebrows in a raised positions as if he were slightly surprised at something but the case is usually that he is not. Surprisingly, Atlas has red eyes. It would most definitely be possible for his eyes to be blue, brown, hazel, or any other color. In most situations lighter hair color means blue eyes. Take blondes for example. His eyes are a solid and intense dark blue. Though along with his hair, his eyes differ from normal standards.
Next in line would be Atlas' nose. In terms of width, his nose is relatively similar to his eyebrows. His nose is actually quite small though. In length and protrusion. It could be considered maybe an inch and a half long and half an inch in protrusion. His lips are the same way. Small and thin. Moving over to his jaw, Atlas has quite a sharp jawline. Ever hear the saying about jawlines cutting steel? This one can.
This pirate has enclosed and tense shoulders rather than broad shoulders. Though he prefers that as well. There isn't much about himself that Atlas dislikes. Supposedly a sliver of narcissism exists with the pirate. Of course this type of narcissism can not be considered equivalent to Narcissus of Greek mythology. Atlas in his own way differs. He simply takes pride in how he looks. It's something that is not able to be changed. Aside from plastic surgery. Plastic surgery is not a subject Atlas finds appealing.


Although his shoulders may not be broad, they should most definitely not be considered weak. Atlas' overall build is muscular.

To begin with, Atlas has a defined and toned body. His height is peaked at 6 feet and one inch exactly, and he weighs in at 200 lbs. Hidden beneath his clothing attire one may be fooled but looks can indeed be deceiving. Atlas has well built biceps. The anticipated indents and bulges come along as well. When enough strain is put upon them, blue veins are able to be seen making themselves well known to the viewers eyes. If one were to run their hand or hands along his arm they would be able to feel the hardened compact muscle built up. "I'm not the type to go around flaunting my muscles so chill."

Furthering the explanation of Atlas' physical bodily appearance, his clothing attire not only conceals his biceps, but his abs as well. Atlas has solid, defined abs. After all, a strong core is a necessity for somebody likes him, constantly engaging in fights and battles. It takes a some work to maintain his body, however he gets it done. The work and training to maintain his body does not even come close to comparing to his most difficult forms of training.

Last and perhaps even least compared to every other aspect of Atlas' appearance, is his clothing attire. This pirate enjoys wearing different types of clothing. To him, it does not make sense for one to be unfashionable. There are times where he decides to put that to the side and wear what he wants to wear.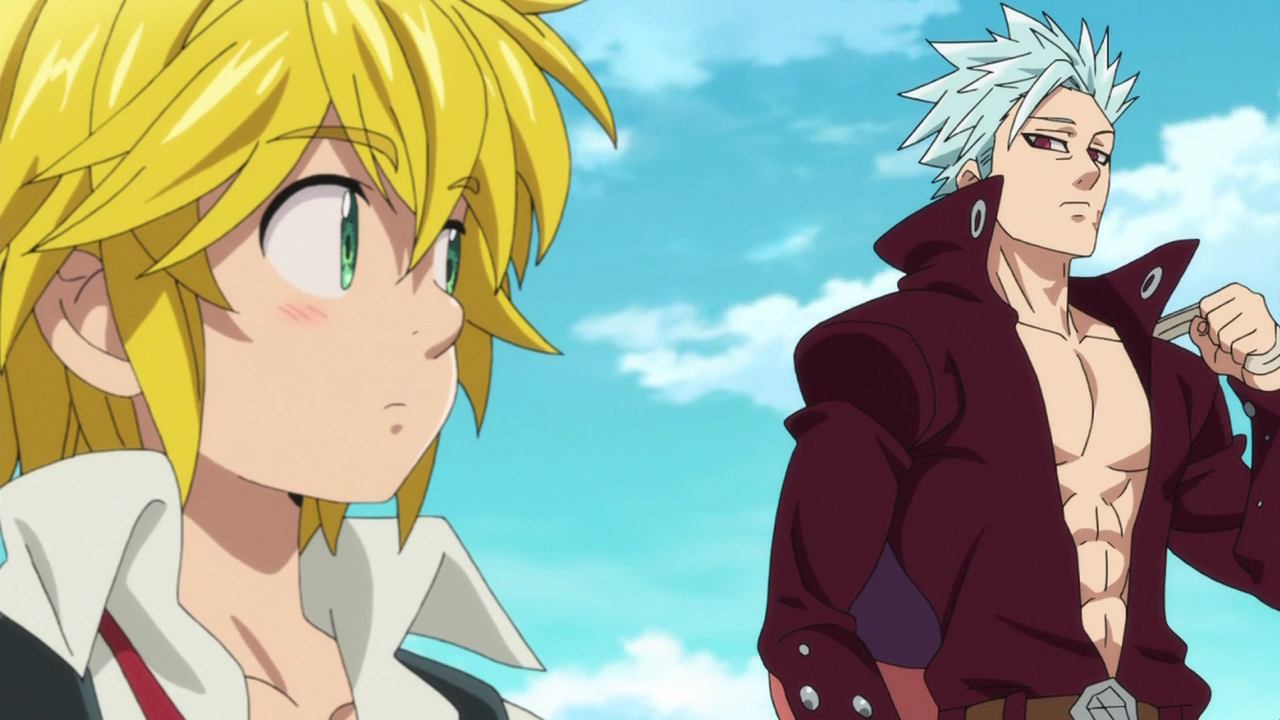 Hair Color:
White
Eye Color:
Red
Height:
6'1"
Weight:
200
---
Personality:
Atlas is a very laid back type person. There is a certain aspect of himself that others may feel when being around him. Not bad, but not good. That would be his inner ambition. His strong drive, what keeps him alive and kicking. His ambition to get what he wants done, and done correctly.
At a family reunion, Atlas would be the cool uncle that everybody loves. The one that would look out for his nephews and nieces when they got into trouble and their parents sought to punish them. Vibes are sent off from his body language showing he has no worries or stress. Nobody is exempt from worries or stress aside from maybe a newborn baby. Atlas only appears as if he does not.
Atlas' vocabulary is very inclusive of vulgarity and slang. The situation does not matter. Whether he be at a funeral, wedding, or important meeting. His mood, tone, and body language may change, however his speech will not. That's who he is. He won't let the world change him for something so trivial as proper grammar. The single variable that has the power the temporarily alter him is women.
Atlas has the highest respect for women. So in a scenario where a woman is present, the outcome will most likely change. Atlas has a positive affinity towards women, meaning being a creep or perverted are both out of the question. When it comes to the opposite sex the Atlas is a gentleman. Being considerate by holding doors, giving up a jacket, listening to problems, or simply buying chocolate, Atlas respects women to the fullest.
Atlas enjoys reading, preferably about the mythologies of the world. Greek, Norse, Egyptian etc.. Tales of gods and titans possessing fearsome powers are enticing to him.
Atlas also favors books about other races and cultures. Of course, Greek, Egyptian, and Norse mythology all three can be classified as cultures. He feels it is important to know about the different types of people in the vast world. Expanding his knowledge is something he enjoys.
This is just Atlas' average sociable personality. How he acts around others, what will possibly define his conversations. Let's move past that and look deeper into Atlas, at what was mentioned above earlier. His inner ambition. Atlas wants to make the world his. Or at least how he envisions it. There's no denying that people like this can be seen as tyrants and dictators. However, this is not the case with Atlas. He truly has no evil intents.
Though it is true Atlas has no evil intents, it is true that he is willing to do virtually anything to reach and confirm his goals. First off, Atlas wants to become the strongest pirate to ever live. Such a mainstream goal, but it's what Atlas wants. Of course, this goal is long term and will most likely be insanely difficult but it's something he for sure wants to do. Again this goal is not to ensure that he could rule over all with tyranny or anything like that. He simply wants be make his name known, and forever etched into time itself.
Secondly, Atlas wants to rid all races and beings of suffering. Notice, the word suffering is used in place of pain. Without pain, there be nothing to gauge joy. Pain is a necessity in life. However, suffering is not. Losing a family member to a murderer. Not having enough money to be able to purchase food, and therefore being subject to starvation. Being taken as a slave by evil men. Not having a roof to live under and experiencing bodily harm. These are all things Atlas wishes to change. Atlas plans to put together a strong crew and fulfill his goals. Some crew members may not even be interested in his goals and he finds that fine. If they are working under their own ambition, he doesn't care. So long as they carry their weight and their goals intertwine with his. He may have to subordinate himself under another captain first, until he can increase his own power.
Likes:
Women: Don't get the wrong idea. Ever seen any of the Dragon Ball series? Well Atlas isn't like Master Roshi. In fact he despises creeps and perverts. Atlas is a gentlemen towards women and sees them with the highest respect. He'd never want to see any harm come upon a woman.
Music: This is a big one for Atlas. If music isn't his favorite thing in the world, it's damn sure close. You can listen to music in almost any situation. There's a song for everything.
Hoodies: Hoodies are among Atlas' favorite type of clothing to wear. Putting summer to the side, hoodies can be worn in virtually any type of weather and season. They surely do not look bad at all either.
Wind: This can be paired with Atlas' liking of hoodies. Wind is perfect with a hoodie. With a little bit of drizzling rain. Light rain and a soft wind sweeping across the Earth. If he could, Atlas would have the wind blow every day.
Dark: The dark is calming to Atlas. In the dark, nothing ever really happens. Most beings rely on light to see and even live so when entering the dark, Atlas finds comfort because he is usually able to relax in it. It was however a past fear of his, shared with many others between the three worlds but he has overcome that now.
Proving points: When getting into an argument, Atlas REALLY gets into it. This ties into his dislike of losing. When he really believes in something, being told that he is wrong gets on his nerves. Then when an argument is created through the conflict at hand, proving his own point is something he finds very satisfying.
Rain: Opinions about rain vary. Atlas is one that enjoys it. Nothing more to it. He simply likes this type of weather. Storms as well. Though not when at sea, obviously.
Straying from popular opinions: Atlas does not like to follow trends and bandwagons. The pirate enjoys being himself and knowing he has a mind of his own.
Anime: Yes that's right, Atlas watches anime. Most of what he enjoys watching contains lots of fight scenes and action content.
Sweet foods: Cakes, brownies, candy, fruits, anything really. Name a sweet food and Atlas will most likely want it. He really has a sweet tooth.
Sleep: Any opportunity he gets, Atlas will sleep. It is the way the body recharges itself after all. He just can't resist that sense of drowsiness he gets after a long day
Strong Will: Something that he himself is in possession of. When meeting others with this character trait, he has respect for that person.
Dislikes:
Sour Foods: Atlas is not a fan of sour foods. He finds the flavor type completely compelling and does his best to keep away from it at all costs. Who would want food that makes your face scrunch and cringe anyways?
Children: Almost nothing rivals the capability children have to irritate Atlas. Children have no desirable or useful purpose. In fact in his eyes they do nothing but drag one down in their completely dependent needs and wants. If ever were to meet and independent child perhaps his thoughts would be redirected and changed.
Insects are almost up there with children on the list of irritable things. Mosquitoes are classified as an insect. The little bloodsuckers dance around living bodies pricking and poking. Flies are also a member of the insect category. In Atlas' opinion flies are on par with mosquitoes. While they do not want to pierce the skin and drink your blood, they do expel buzzing sounds from their beating wings while whirling around your ears.
Winter: Atlas' least favorite season of the four. Winter, depending on location, can contain absurdly low temperatures. At least in the opinion of this pirate. On top of that, you get snow. Snow is a nuisance. All it does is limit your walking speed and form ice which can obviously cause you to slip and possibly fall.
Excess Positivity: Atlas despises beings that always hold a positive bubbly attitude. It goes without saying that being positive is a good thing for people, but to be completely over optimistic in every situation? People like that are the type of people that irk Atlas.
Losing: Ask any person or any being if they enjoy losing something or someone. The answer is obviously going to come out as no in most cases. However with Atlas, he hates losing on another level. His self image is an important thing to him. To lose would mean to throw dirt on his name. And he would never have that
Being Doubted: When Atlas tells you he will do something, it's getting done. Nothing pisses him off more than when an individual goes back on their word. If Atlas made you a promise he WILL follow through on it and he knows this himself. This is why when he is doubted it irks him so much.
Other Men: Now hold on, read the description first. Atlas most definitely has no issue with becoming friends with another male, however he sees them as competition for the women. If no women happen to be in the immediate area, then everything is alright. However if there does happen to be a woman or two, it's every man for himself at that point.
Being an pirate: Atlas does not directly hate his being of his own faction. He only hates the image that is set by the faction. The "stereotype" if you will. Not every pirate wants to loot villages and ships. Except maybe on certain occasions?
Boredom: Boredom is the sole reason Atlas has fallen into some of the habits he has now. He hates being bored. Atlas is always able to be seen doing some type of movement based action.
Judgmental People: This pirate does not appreciate to be judged by anybody but himself. As mentioned earlier, he does care about his self image, but only his own opinion of his self image. He could not care any less about another's opinion. Not only towards himself either. Seeing one judge someone else also irritates him.
Moral Alignment:
Chaotic Neutral
---
History:


Coming up as a young child about 4 Atlas and his family didn't have much money. They had just enough money to get by, in the small village, unknown to the world. They had no money for extra luxuries. Their house was small old and beaten up. What the word family meant to Atlas was him and his mother. His father left them with selfish intentions of not coming back and took most of their money leaving them in their current state.
Atlas was happy as could be though. He didn't quite understand the situation him and his mother were in. Everyday he would run around outside playing casually with no worries in the world.
Nine years later
Atlas' mother had met another man and with this man came 3 children all younger than Atlas. Two of them were twins and only 1 year younger meaning they were 12. The third child was 8.
Now with this extra group came more mouths to feed and less space in the house too worsening the situation. Also now every day Atlas was required to go work with his new stepfather everyday which was very tiring. He had no extra time for friends or becoming a scholar either. He wasn't happy with his life anymore and wondered how and why something like this could happen to him specifically and nobody else.
As time continued to pass Atlas grew tired of the situation and asked his mother about splitting away from his stepfather almost every day and she gave the same answer every time. "Atlas my son, the answer is no. I've already told you many times. My answer will remain the same." He felt miserable in this situation and had no clue what to do.
5 years later
Atlas was 18 and living on his own. He found himself a small house. This house was EXTREMELY small. In a normal house, the size of a living room would be only slightly smaller than his whole home. The only doorways were the ones leading to his bathroom and to his kitchen. Atlas did not have much of a better choice though. His job brought him very low income. He didn't want to leave and return to his childhood home with his mother. Atlas hated his now ex-stepfather with a burning passion.
The future pirate was forced to take care of, and provide for himself. He chose to lead his own life now. No regrets, excuses, or turning back. On one fateful day, Atlas made his way to work. Where he worked, was at the marketplace, selling fish. The fishermen would bring in their days haul to the marketplace. Atlas' task was to separate the fish by species, and place them into their corresponding container. He also dealt with the purchasing. If a customer asked for a species of fish, Atlas would show them, then if they decided they wanted it, they would exchange. Beli for fish. On the daily the fishermen brought in anchovies, tuna, flounder, cod, grouper, swordfish, and salmon.
Today they had less business than an average day. Atlas did notice one person approaching. A woman.
A woman coming to a fish stand? How unlikely. Who am I to judge though? I work here.
A sigh escaped from Atlas' mouth. Atlas relied heavily on this job despite the fact that the income was below standard. His brain suddenly snapped to focus, due to interest.
The woman approaching was beautiful! She had cascading blonde hair, blue eyes, a nice figure, and a light tan. Atlas studied her even more as she began to speak. "Hello." She said while showing Atlas a friendly smile. "Forgive my ignorance, I've never been to a fish stand myself.. But do you have tuna here?" Atlas quickly exited his dazed state and replied. "Ignorance? No! It's no trouble at all. A lady as beautiful as yourself shouldn't apologize over such trivial things. About the tuna.. The fishermen didn't bring much of it in today so it sold quickly. But if you come back tom-." Atlas was interrupted by a shouting voice. "Oi! Wench! Did I give you permission to leave the house?!" The woman flinched at the voice and her body language showed fear.
A man, clearly angered made himself known and a part of the scene. He was quite muscular and built like an athlete. He was blond with blue eyes and wearing a business suit. As the man came closer, Atlas made sure to size him up. He already sensed a problem forming. He just needed to be sure. He needed the one sign.
I already know what he's going to do but I need it to happen before I'm allowed to safely react. Forgive me miss..
Just as Atlas predicted, the man pulled back his arm, and punched the women in the face. But what was more than he predicted, was that the man kept at it without signs of stopping. He had to react fast. The two were about five meters away. He quickly picked up a knife from the table and hurled it, its target being the offender. Atlas watched, unsure of what he just did.
Throwing a knife was not originally what Atlas planned to do. He didn't know what came over him.
I.. He started.. What did I do?
The thrown knife impaled the man directly where his pulse was. In the neck. Though the woman really did not care for the man, she still felt it was wrong. "What have you done?! How could you do something like this?!
2 years later/Current Date

That day a man died because of me. My intent was never to kill him. I was punished accordingly in response. Naturally, I was fired from my job. With no source of income, no money, I was of course evicted from my home. For two years.. I lived on the streets in a level below poverty. At the age of eighteen.. I kept myself hidden because I was classified as a murderer. My intents were clearly pure, but that means nothing. The results are what decides. It seems I've been forgotten for now, so I've reappeared and joined society again. However with my return, comes the time of my change. I'll become a pirate and follow through on my ambitions.

Face Claim:
Seven Deadly Sins, Ban.
RP Sample:



I'm really here right now. Heh. Guess this is me huh? This is what I'm doing with my life? Mannn if only I had a different childhood. A different past. Shit maybe even different parents!
Atlas drank another sip of beer from his mug. He was at the bar, contemplating his life in a sense. There was a largely built woman singing opera in the center of the bar. A hopeful sense of entertainment.
What type of world is this that I live in. I don't believe in a god or any higher beings. If they did exist, is this their way of having fun. Watching the world slowly kill itself. Ha. What a joke. I'm going to change this. My life is going to be how I want it to be. I won't follow the rest of the world like a mindless sheep.
A bit of foam dropped onto Atlas' lap as he took another drink for the glass mug. He was on the verge of becoming drunk, he had downed a few drinks before this one, due to the fact that he has a high alcohol tolerance.
A woman across the bar could be heard raising her voice.
Hm? What's going on over there?
An intoxicated man had become convinced that a woman was a prostitute. He looked about 34 or someplace in the mid 30's. The man had black hair, blue eyes, and a thick beard. However, the man was quite thin which made the thick beard look strange on him. "Cmonnnnnn. I'll double th-." Just finishing his drink, the man let out a loud obnoxious burp. "I'll double the beli I offered you before! Can't turn that down can you?" The woman was obviously disgusted and wanted nothing to do with this drunken figure. She looked about 28 or 29. She had medium length black hair, brown eyes, and dark skin. "No! No means no! Leave me alone!"
One of these bastards huh? Should I do it? What happened last time though... Fuck it I can't let a pig like this do whatever he wants. This is where I begin.
Atlas pressed his feet against the bar and pushed his tool back. He hopped off and started to make his way towards the source of the conflict.
Now that Atlas had gotten closer to the man and woman, the man had a full grip on her trying to pull her from her seat. "I told you no! Get off!" The woman tried pushing him and even removed one of her high top heels and threw it at him. Atlas decided it was time to intervene. He sighed before taking action.
Can't I just come have a few drink? All I wanted to do was get drunk. Now I'm taking care of somebody else's drunk problem. Oh well. "Yo. Dumbass."
The drunk turned to see who had insulted him, and just as he did, Atlas reared back his hand, and not punched him. No. He slapped him. Atlas slapped the man with as much power as he was able to. A red hand print began forming just barely after Atlas' hand connected. Naturally, the man became infuriated.
"Just who the hell do you think you are?! I'll teach you a lesson!" The tipsy man turned towards Atlas and charged him, clumsily swinging a punch. Atlas easily sidestepped and afterwards stuck his foot out causing the man to trip and fall on his face.
"Never irritate another woman again. Understand? If you do, I'll find out and come actually beat your ass. You got away with something light this time. Learn some damn respect for the ladies."
Groaning on the ground, the man nodded his head and let out a muffled "Yes.."
My goal here wasn't to harm him. It was to humiliate him. Pain isn't always required in terms of punishment. Hopefully he learns from this and betters himself. "Now get the hell up and see yourself to the door."
And the mid aged man did just that.
It's probably best I get out of here soon as well, before security or management come after me. I guess I've caused enough trouble even though I was helping. Regardless, I'm beginning my journey.
So Atlas began heading towards the exit. Right as he was about to walk out though, the woman he had helped called out to him. "Wait!" Atlas paused and turned around to see the dark skinned woman running to him. "Thank you for helping me!" She stood on her toes and gave him a peck on his left cheek. After that she embraced him with a hug. He hugged her back.
Heh. Guess it was worth the trouble after all. "No trouble at all! Sorry, I never caught your name, what was it?"
A grin spread across Atlas' face.