Post by moonlightbutterfly on Jun 25, 2018 21:06:45 GMT -5
"God I need to relax sometimes..."
Full Name: Winchester Mina

Alias/Nickname: None for Now

Race: Human

Gender: Female

Age: 16

Faction: Citizen


---


Appearance: Mina has medium length straight blonde hair down to her shoulders, parted neatly while usually having a few stray hairs sticking up due to her headphones. Her headphones are framed with black metal with pink earmuffs around the dials that either transmit the sound from a tone dial containing music or some other sound, even the sound of a den den mushi call if she so wished through the aid of a small wire similar to the one used to connect a white den den mushi to a regular one kept under a small cap on the underside of the left side of the frame.

She has a curvaceous figure, a generously large bust and a thin but not unappealingly thin waist, her hips comparatively wider but not that far outside the average. She has slender features from her face all the way down to her toes despite her curves arguing otherwise in some areas, her legs long while still fitting her frame nicely. She usually wears a black strapless shirt with white trim on the top rim, her wearing it lower on her chest than intended, showing what most would consider an immodest amount of cleavage, it thankfully fitting firmly to her due to form-fitting design, it slack under that point. She wears a black hoodie with pink fur on the inside of the hood, the sleeves wrinkled right above her elbow, black fingerless gloves going past that point and just below her upper arm with black and white stripes down her forearm. The hoodie covers her shorts so to most it would appear she wears her hoodie like a dress.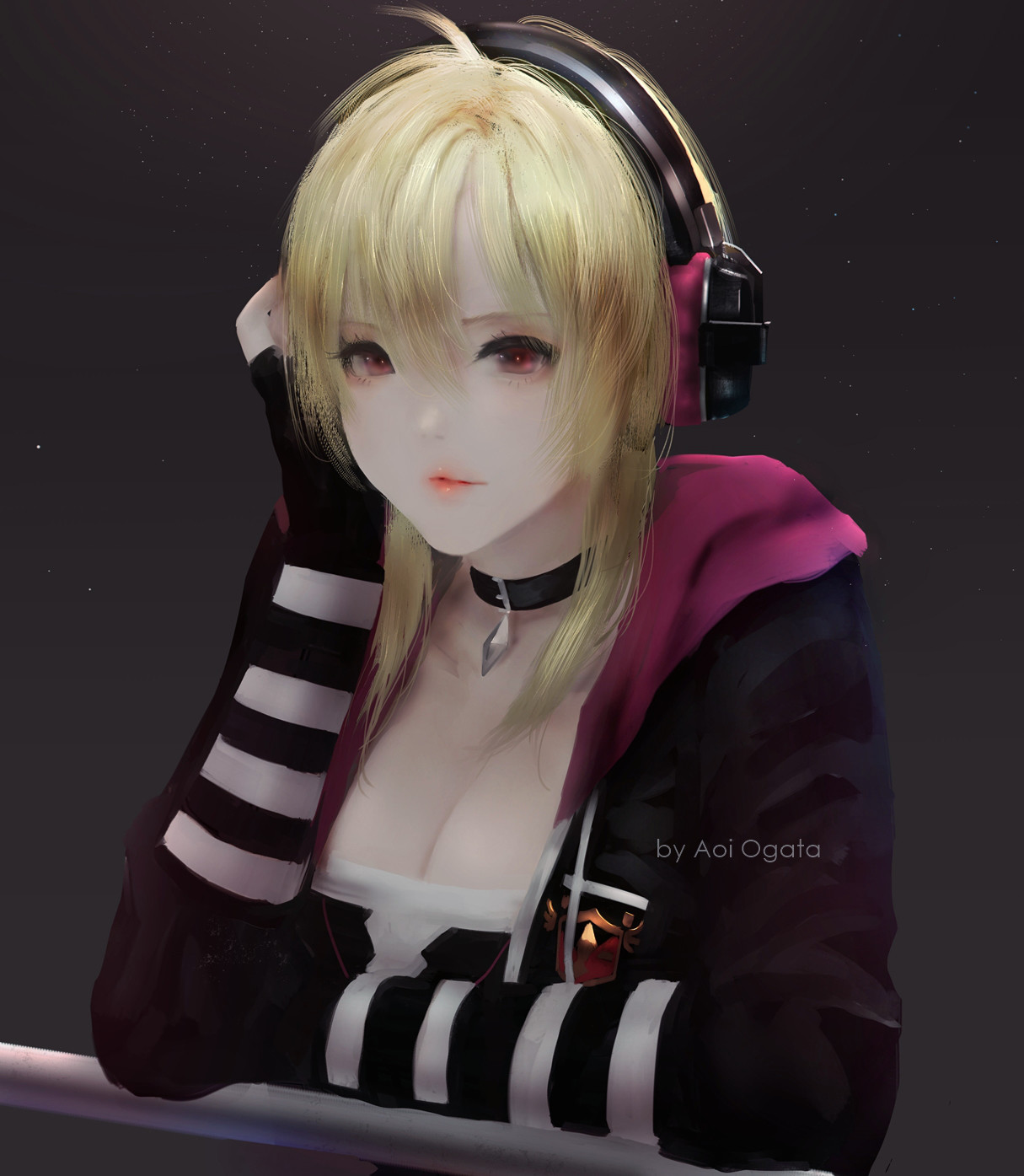 Hair Color: Blonde

Eye Color: Burnt Amber

Height: 5ft 6in

Weight: 135lbs


---


Personality: Mina's personality is a slight dichotomy; she is very strong-willed and confident pretty close to a fault with virtually no insecurities aside from a few she hides extremely well, not backing down from a challenge when presented. She is also a self-motivated person when she wants or needs to be, able to pick up on skills she takes interest in eventually even if she fails to a point where most would consider it a hopeless effort to learn. She doesn't like depending on others due to personal experiences beyond the fact she'd see it as annoying to have to be held back by them. This doesn't mean she is unable to work with others however, though she often likes to take charge and correct them on even minute mistakes. She has a hard time admitting her own mistakes, though will upon being pressed to do so or making a grievous error.

Despite this, she is a legitimately kind person that only wishes the best for people, and is willing to go as far as take time out of her day to help people when it might not be convenient at all. She does what she can to help herself first though so she won't perceive herself as a drain to the people around her, which would make her worse for wear on any given day. She does suppress certain parts of her personality to keep this up to any reasonably acceptable or publicly decent extent. In fact, she's never killed before but the thought of doing so disturbs her so it'd take a lot to push her that far, like killing someone close to her.

One of these aspects is her sadomasochistic tendencies, which she considers not so much embarrassing or something she'd consider an insecurity but rather indecent and repulsive, not to mention improper and unattractive. This does not go to the full extent of liking the act of killing or being killed herself but more so minimal to moderate amounts of pain, which would influence her were she need to kill. She'd want to get a nice rush of excitement before the fight ends, taunting and teasing the enemy she has held or otherwise powerless before her before actually doing anything productive in any real capacity. Her mood would depend on how much of her personality she likes showing is present. When annoyed or angry, she gives in completely, requiring others to intervene or stop her while if she was in a relatively good mood she'd be primarily her usual self with some of these tendencies sprinkled in.

Likes: Mina likes to feel good and do things that make her feel good, though she still likes to feel classy and confident while doing so. Some o these things are simple things like heading out to the local firing range and just hitting a few targets since it relaxes her and lets her take out aggression in a healthy way. Another is taking long hot baths after a long day, or just casually staying at home sometimes to read a book or plan out her week so everything goes well. She does also tend to enjoy things in which she can show off or flaunt herself or her confidence, skill or anything else she has that they don't since it makes her feel good and even more confident about herself.

Dislikes: Mina has her fair share of dislikes, one of which being patronized. She doesn't like to be treated like a frail flower or a child due to her immense pride. She also cannot stand people who are too self-righteous or stuck in old-standing traditional ways, which is ironic considering her personality. She developed this because these kinds of people usually commit horrible atrocities and do things she cannot morally justify no matter the reason, the marines being a prime example despite the public opinion of them. Mina's love of organization and planning can make it stressful for her if she is faced with a situation she can't think or plan her way out of, making her hate it with a burning passion. Finally, her main pet peeve is actually having to deal with the more inconvenient parts of being sufficient due to it being both tedious and frustrating.

Moral Alignment: Lawful Good


---


History: The Winchester Family was always undecidedly middle class with Mina's father not exactly being a good male influence in Mina's younger years. He had at least two or three different wives during her childhood, though she now understands why that is; he wasn't the most wealthy or successful, so he couldn't keep a wife despite being a good man. He tried to be the best father he could and instilled as many good traits as he could in her, though due to having no clue as to how to actually raise a daughter, ended up making Mina far more masculine than she would have normally been though she doesn't hate him for it. She looks up to him far more than anyone else in her life due to the attempt to soldier through it on his own when most mothers she had thought of her as an inconvenience or a problem that required fixing rather than someone with a somewhat different upbringing. She never really got along with other children well, so she formed a perception that people are just unreliable and not worth her time to a degree.

In her early teenage years, she started taking care of herself fairly independently because her father was out most of the time doing odd jobs to pay the bills. She started taking care of such things originally as a way to take stress off the both of them, but eventually got used to it as a way of life after a year or two of it, rationalizing she'd have to eventually so it's better to start early. On Nights her father was home, he did most of the work out of courtesy. After learning of the apparently noble duty and need for help, she started training to become a marine in the ways she knew she could by attempting to do the seemingly impossible task of actually gaining muscle mass enough to be a viable choice for something more than a support role. She was at some point taught how to fire a rifle and do it well enough, though she never got more than casually or locally good at it despite thinking she's good at it.

In recent times, she's been rather untrusting of the marines due to a local incident involving a marine captain visiting a tavern and a bartender. From all she heard, the man made a snide remark to the marine who then broke a bottle of booze over his head, and that this kind of behavior was normal from marines that stopped in town quite often. What she had perceived as respect and reverence had at this point been revealed to be a mask to hide fear of getting killed for no reason. She didn't want to believe that this was what the marines were like, less so that this was normal or expected. She wanted to believe that these were just some bad apples, but part of her knew that was a lie from what she has experienced. What made it worse is that now she felt she was working for nothing other than some selfish impulse.

Currently, she just lives day to day doing what she enjoys doing the most and attempting to relax, no matter how unsuccessful that can be on some days. She doesn't really have an occupation or anything significant enough to be called as such, though she does do freelance work she can get around town, mostly being a glorified mailbag. It was an annoyingly patronizing job, but it made enough money so she holds her temper as to not cut her pay.

Face Claim: Tanya by Aoi Ogata (Original Illustration)

Beli: 125,000

Stat Ranks:
• Natural Rank: Rookie
• Words to Next Rank: 0/25,000
• HP: 32/32 (Junior, Healthy)
• Stamina: 200/200 (Rookie+100)
• Power: Junior
• Speed: Junior

Tasks and Adventures Completed:
•

Weapons:



WEAPON

Name:

Quicksilver

Rank:

Rookie

Type:

Marksman

Description:

Quicksilver is a 49-inch long rifle, the barrel being 30 inches of it. It is adorned with Golden Designs along the side of the barrel and part of the stock, being of a model unique to the Winchester Family though it uses normal bullets. It is actually a model of rifle comparable to the standard issue rifles Marines are often seen carrying in terms of design (albeit with slight differences and slightly higher caliber ammunition), though only a trained eye would notice this. In fact, this detail about it was completely accidental and simply a result of optimization over years of working on it.
Image Credit: Winchester Rifle by Vyacheslav Gluhov



Items:

Styles:



Organic Shooting

Category:

Marksman

Theme:

Use of a Rifle augmented by Pop Greens

Element:

Pop Greens

Bonus:

+1 power (Damage) Rank to Moves

DESCRIPTION

Rookie Style:

Mina uses the rifle as intended, it being a model similar to the one marines use but with slight differences like higher caliber and slightly faster fire rate due to a faster responding percussion cap.

Junior Style:

Mina can now use lesser pop greens in addition to the faster responding percussion cap to fire bullets at even faster, and thus do more damage, incorporating minor pop green effects that can't damage things as much as serve small utility functions.

Journeyman Style:

Mina can now incorporate pop greens into her bullets. At this point Pop Greens are intrinsically a part of the bullets, bolstering the total power of her bullets beyond what would normally be possible by using the many types of Pop Greens.

Expert Style:

At this point Pop Greens are intrinsically a part of the bullets, bolstering the total power of her bullets beyond what would normally be possible by using the many types of Pop Greens to an even greater degree, able to now make more complex and independent constructs than before.

Master Style:

Her pop green bullets are now able to act almost as a living force of nature, now able to do things like fracture the ground apart to generate earthquakes and other inhumanly powerful effects.



Move Points Used: 2/5
Moves:




Shrapnel Shell

Rank:

Rookie

Type:

Attack

Range:

25 meters

Requirements and Drawbacks:

Shrapnel shells rely almost entirely on the shell's velocity for their lethality, making them inefficient if not useless in close range combat.

Stamina Cost:

10

Description:

 A shrapnel shell (anti-personnel artillery munitions which carry a large number of individual bullets close to the target and then eject them to allow them to continue along the shell's trajectory and strike the target individually) is loaded and fired, able to hit multiple enemies and deal damage as if this was a Rookie-Rank action or one enemy to deal normal damage due to how the bullets spread.





Magnum Round

Rank:

Rookie

Type:

Attack

Range:

25 meters

Requirements and Drawbacks:

Magnum bullets are primarily used in revolvers and as such have a lower range, making them inefficient or useless at long-range combat, and can also hit one target.

Stamina Cost:

10

Description:

 A .44 Magnum round is loaded and fired, able to hit only one enemy accurately.



Talents:


TALENT

Name: Transcendent Willpower
Description: Characters can withstand a brutal beating no matter how hard the beating is, resulting in them being able to keep on fighting and moving even when they are supposed to be knocked out and defeated.

What this does is it allows the character to ignore the defeat or knock out phase when they reach a certain amount of HP or under. However, if the character reaches the death phase of a certain amount of HP, they are considered dead.

TALENT

Name: Oddly Resilient
Description: The Character recovers stamina like they would out of combat, always recovering at least 5 points of stamina even if they're in combat.

TALENT

Name: Stamina+1
Description: +100 additional Stamina permanently.

TALENT

Name: HP+1
Description: Increases the user's HP to the next rank.

TALENT

Name: Power+1
Description: Increases the user's Power to the next rank.

TALENT

Name: Speed+1
Description: Increases the user's Speed to the next rank.