Post by Cronus on Oct 9, 2018 7:16:42 GMT -5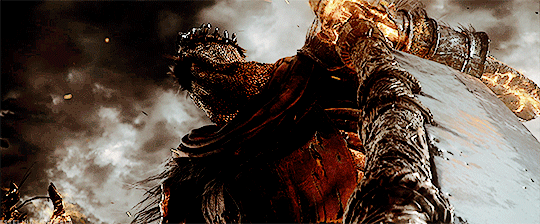 "You know you truly live in an unfair world when you're punished for crimes you didn't even commit."
Full Name:
Cronus Bloodstorm
Alias/Nickname:
Flaming Giant
---
Appearance: Having the appearance of a hulking giant, Cronus is a massive giant that is pretty mundane in terms of his raw body compared to other giants, with the only notable difference is that his body is more toned then actually muscular, starting from the top, Cronus tends to be bald and shaved, having no form of hair whatsoever on his head and over the course of his body being very clearly scarred, indicating many decades of battle experience under his belt.

Now onto this actual clothing, he wears silver plated that armour that covers his entire upper body up to the shoulders, and down to his lower body which stops just at the feet. On the upper body, a clothing of sorts coats the plated armour with is coloured with a dark green, with a crest clearly shown on the front of this. His entire head is covered by the cowl and the inside is usually blackened, giving a menacing sight to anyone who would dare to threaten or fight the giant.
---
Personality:
Cronus, like most giants likes to have a good fight, but what he doesn't share in common with them is the ability to have honour about it. Due to the way he was raised on the tropical island, he did whatever had to do in order to survive and that could amount to anything, such as having the need for money, food, or just simply having to live, he has no qualms of taking another life regardless of the situation to protect his own. It's naturally built as an ideal within him that the strongest survive and weak will die off.
Outside of combat, Cronus doesn't hide his desire for a good fight but he talks more like a old soldier compared to a sadistic,
bloodthirsty
pirate that would take pride in their piracy, he doesn't mind doing the lowly deeds of a pirate if he has to but if it were up to him, he'd only do it if he has to. He can talk quite normally and be respectful, and doesn't judge others for their race or origins and lets them decide by themselves as to how they'd be judged by Cronus himself, and if he doesn't like it, it's pretty hard to get back into his good graces.

His only goal in life is to find a sense of belonging, as he heard tales of friends, people who'd have your back regardless of the situation you're in, which was derived from him due to his circumstances with his bloodline and Giants being cautious and reluctant with Cronus the instant they know he's of Bloodstorm descent.
Likes:
Fighting, should be a given considering the fact Cronus is a Giant but the man doesn't tend to hide this trait unless it would be facetious for him to do so.
Equals, those who know what they're doing and can handle a fight against Cronus.
Feast, there's nothing like having a good meal and drink after a well-fought battle, this is one of Cronus's guilty pleasures.
Dislikes:
Weaklings, those who are constantly confused and what Cronus believe to have no proper role in the grander scheme of matters. He can respect a good attempt at fighting him, but he just can't stand it if they can even put as much of a scratch on him.
Disrespect, even though Cronus comes from a line of cursed giants, he still wishes to be respected like any other giant and wouldn't to be treated any differently. It gets on his nerves when he's judged and pushed to the side simply because of his ancestor.
Greed, he can be greedy himself but to the point that it becomes obnoxious and becomes sinful, is what he hates out of all the negative traits a person could possibly have.
Moral Alignment:
Lawful Neutral
---
History:
Cronus comes from a cursed bloodline of giants that have been judged as bloodthirsty, barbaric
conquerors
as a result of their ancestor putting shame to the name of the giants from a
hundred years
ago, despite this time difference compared to today and the giant's name being completely clear of the taint of Cronus's ancestor, his descendants have paid the price for his selfish desires and barbaric acts, living a rougher childhood and being socially excluded from everyone else with Cronus being no different. This lineage is commonly referred to the giants as the "Bloodstorm" bloodline.
There have been those of the bloodline that attempted to heal relations with the giants over several decades from multiple tribes and not just Elbaf which came to no avail. The Bloodstorm bloodline were forced to grow on a completely,
separate
tropical island in the Blues to escape the possibility that one day, the giants might hunt after those of the Bloodstorm bloodline and wipe them out. Cronus for most of his life has lived on this very island which carries numerous beasts, being more then enough for the giants to keep their warrior prowess and live on.
Unfortunately, Cronus's father had passed away and Cronus remained as the last Bloodstorm Giant,
realising
that he couldn't leave the island because he isn't capable of building a ship, nor swimming
because
during one of his hunts, he accidentally ate a weird-looking fruit, believing it to be an exotic fruit of the island just to be terribly mistaken, finding out that he ate a Devil Fruit.
Luck eventually came his way, as a shipwright landed on the island to gather wood and to make a base of operations on the island, just to meet Cronus and they became fast friends, with Cronus explaining his situation to the shipwright and he took it on as a challenge, to build a massive,
proportionate
rowboat that Cronus can use to leave the island.

It took a few years of constant testing and adjusting, but one rowboat finally fitted Cronus's size and allowed him to sail the seas, beginning his adventure!
Face Claim:
Dark Souls 3 - Yhorm the Giant