Post by Deleted on Jun 28, 2018 19:10:28 GMT -5
"Oh?" Erik continued listening to Vaetric talk about cooking. It was pretty obvious he had not only the skill, but love for it as well, just like Erik had abut drawing, and their shared interest in books. People always say that the best cooks are those who actually love doing it...and of course know what they are doing, so Dubois had confidence that he will enjoy Meri's cooking if he ever gets the chance to sink his teeth into any. But now, Erik planned on treating the both of them to a nice little food place. It would have been a jerk move to just have the blond cook something now, whether he liked it or not since they did just get done with doing work. The same mindset that led Erik to hold off on training for today.

"Just hurry back soon, you two!" "Yeah, don't have TOO much fun!" The two marines continued to go at it even after the chore boys managed to get off the ship. As they continued to laugh to themselves, a figure was suddenly standing up tall, and very intimidating behind them. Their laughter slowly died down as they turned around to see the captain overlooking them with that fierce scowl of his! "Ahhhhh, sir!" the two in a panic, bumped into each other while they were attempting to run off in separate directions. The collision gave the cap enough time to pick them both up b the collar, glaring at one then the other as those poor marines shook in fear with sheepish grins on their faces. It looks like karma has struck yet again.
Erik who was oblivious to what happened aboard the ship continued to speed walk across the docks. At first, Dubois didn't hear Vaetric since he was too caught up in thinking about what those two marines said. It was crazy! First Lily, and now this!? Why are the others so obsessed with teasing poor Erik? Was it because of his rank, or maybe how awkward he could get at times? Possibly a combination of both, who knows. In the end of the day, it was all done just for some harmless fun...right? "H-huh? Oh...uh...beats me." he claimed, blushing a bit as he looked over to Vaetric. "Just...big fish picking on us small fry, maybe?" Erik said, but wasn't exactly sure if he said it right. The idea of being together with someone like that has never really crossed his mind. Of course...other things have, things he wished didn't but he's been mainly keeping that under wraps. He wasn't exactly sure if ending up in a relationship will hinder his progress on becoming a great marine. It didn't with his father, or grandfather, so maybe there is some hope after all. Who knows. Erik continued to look down at the wooden ground from the docks that soon turned more dirt like from taking foot on the island as he continued to quietly ponder about this.
"Hm?" Erik absentmindedly grunted to Vae's question since he was still thinking. Fortunately, or more like unfortunately for him, a little rock was in the way, and thanks to him not paying attention, Dubois nearly tripped over it, causing him to focus once more. "Waahh.." Dubois regained his footing, and looked down at the rock before looking up at Vaetric again. "Ahh..sorry. I'm not exactly sure now that I think about it." Erik said as he continued walking, pretending as if that little mess up hadn't happened. "All I know, is that it sells pretty good food." he claimed with a grin. Shortly, they'd make it to the town located on this island which served as the main town of all of these islands. There were people out, and about doing their own little things either together, or with others. It was pretty peaceful with no signs of trouble, just like when Erik, and the others first arrived. Some other marines could be seen walking by from time to time, out on patrol most likely. Thankfully they weren't in the teasing mood like the others aboard the ship. After some walking, they if Vaetric was still following would come up on a small building labeled, 'Aunt Cordelia's Home of Chicken, and Meat' "Here we are." Erik said with a small grin as he opened the door, gesturing Meri to go in first. The restaurant had a really old school, and home like style to it that just felt naturally comfortable. There weren't that many people here, so it meant a lot of free tables.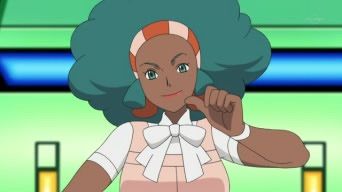 "Weeelcome to Aunt Cordelia's. I'll make ya feel right at home, hun."
The ma'am herself said at the front counter with a country like accent. Her professional smile would form into more of a relaxed one upon looking at Erik. "Oh, I've seen yer face here before. Always happy to see returning customers, even if the majority of my customers are made up of em." she claimed with a hearty laugh. "So what'll be? Anotha helping of Aunties famous BBQ Pork Ribs for you, green bean?" she asked Dubois whle getting out a notepad, and pencil. "Sure! They were pretty good." Erik claimed. The thought of those ribs nearly made Erik drool, but thankfully, the chore boy had enough self control to hold that in. Cordelia chuckled lightly as she wrote it down. "What about your little friend here?" she asked, looking over to Vaetric with a welcoming smile.

WC - 910

Total WC - 11,323